Community Garden Grant in Hanover is a success!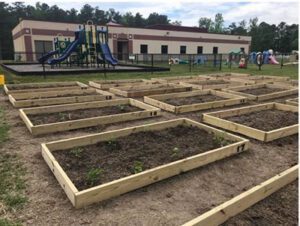 In a time of uncertainty and trepidation, New Song United Methodist Church wanted to create a Community Garden. Not only did they want to provide fresh produce for those in need, but also a sense of unity and friendship for our neighbors.
For each grant, we have a Master Gardener volunteer partner to be a resource, make a site visit and follow up post-implementation for a final report.  Mary Wagner, who volunteered for this project, reported the exciting results of the grant awarded to New Song United Methodist Church.
Here is what they accomplished:
Established a new community garden located behind the church 7450 Colts Neck Road in Mechanicsville
Bulit 20 4×8 framed garden plots, each with a steward.
Provided fresh produce to local food pantries and fellowship opportunities.
Received community donations of time, tractor use, garden tools & supplies, even horse manure.
Created a Facebook page to share gardening news.

We look forward to hearing about other successes this year from Camp Hanover, Rural Point Elementary and Beaverdam Elementary, who are also Hanover Master Gardener Grant recipients.