Master Gardener Training
An Extension Master Gardener (MG) is an individual trained in environmental horticulture through programming with Virginia  Cooperative Extension (VCE) and Virginia Tech (VT) and Virginia State University (VSU) volunteering as an educator within the local community.
Activities include partnering with VCE to promote, inform and work within the community presenting research-based programs on all aspects of horticulture to protect and enhance the environment. This includes turf, landscape, vegetables, trees and shrubs, soil quality, and pest management practices.
If you are interested in:
Correct Use of Pesticides/Fertilizers?

Water Quality and Conservation?

Soil/Land Management?

Preserving Natural Habitat?

Wildlife/Insects/Bees?

Native or Invasive Plants?

Sharing Knowledge and Meeting New People?
You would make an excellent Hanover Master Gardener! 
Steps to apply, interview and be accepted into the Master Gardener Training Program:
Attend the open house

Complete the online application

Provide references and undergo a background check

Have an informational interview to learn more about the program

Pay your fees after accepted.  

$250 for electronic copy of the Gardener Handbook OR

$300 for electronic and paper copy of the Gardener Handbook- payable after acceptance.
Levels to Achieve and Maintain Master Gardener Status
Trainee
Complete of All Class Sessions (60 Hours) and Quizzes.  Arrangements must be made for missed classes.  Attendance at each session is highly encouraged.

Pass an

open-book exam and give a presentation

are required. 
Intern
Has achieved MG Class Graduation
Complete 50 hours of educational volunteer service as an INTERN 

by volunteering in Hanover APPROVED PROJECTS that focus on

PUBLIC EDUCATION.


Internship hours completed within 12 months of finishing the classroom portion.
Master Gardener
Has completed MG Class Graduation and 50 volunteer hours in APPROVED PROJECTS

Maintain EMG status by completing a minimum of 20 hours of volunteer service and




eight hours of approved Continuing Education annually per calendar year.

Periodically reactivates Civil Rights/Risk Management/Background Check/Youth Training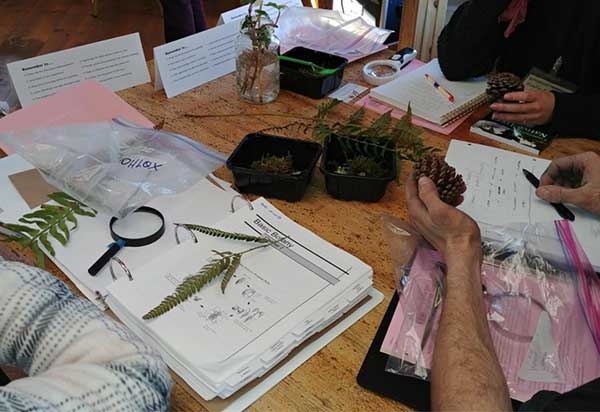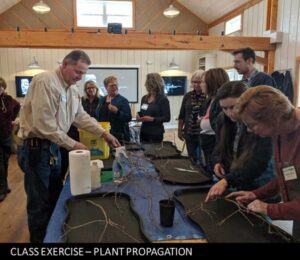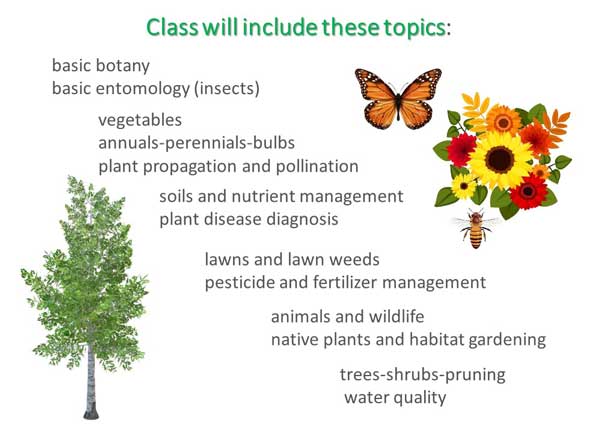 You will also benefit from hands-on experience during the courses and from a presentation of a class project.
Course speakers are experts in their field, and many are current Master Gardeners. The course is intense and rewarding.
The class schedule is typically twice a week for 3 hours each.  Class begins starting in January and on alternate years the class is held in daytime or evening.
Want more information on how to become a Master Gardener? 
If you would like additional information, please contact Angelette Pryor, Extension Volunteer Manager, Hanover Cooperative Extension  angellp@vt.edu  804-752-4309 who will be glad to answer your questions.